Sgneep-Box OS is a scalable and customizable opensource system ......
"You just have to imagine and, everything can create ...."
It may seem like a slogan, but Sgneep-Box OS with its script interpreter simplifies the IOT / MTM world.
I think about my projects today, I compose them and prototype them in a day or a few weeks ...
no more years of development ...
Smart House, Smart City, Domotics, Hydroponics, Industry 4.0, SCADA Systems,....,today with Proximity Marketing Wifi and Gamification .... connected to lights, video, Mp3 and even more, pollution only more imagine!
Sgneep-Box OS, does not limit you, we integrate sensors, hardware that the market creates and offers us every day ....
Screens that communicate with each other and speak to you, all managed by a kiosk, by a web app .....
Don't limit your creativity, offer your world and integrate it into the world that is being born, you can be a pioneer.
Sgneep-Box OS v.2
'' Sgneep-Box '' is a Debian-based operating system ,opensource and scalable for any electronic boards with ARM/Intel CPUs.
VIEW THE FEATURES
MTM and Internet of Things
Build networks of intelligent devices connected with Sgneep-Box OS
Machine-to-Machine (M2M) applications allow computers, industrial machines, home appliances and other devices to network and communicate with each other.
SGNEEP NODE allows SGNEEP-BOX to connect to the cloud (support WebApp,API,ReverseFtp) and instantly benefit from remote control and monitoring capabilities, data collection, graphical display, interface buttons and GPIO port output.
Digital Signage / Kiosk
With Sgneep-Box OS you can create DS or Kiosk systems. Now you can easily add buttons, audio, video, email, camera DSLR and much more.
Interactive Video
Novel use of gamification in a video. Building interactive video experiences has never been easier.
You can also control 20 digital outputs (programmable with Sgneep-Box Script) to control IoT devices that manage actuators and sensors, at the same time you can collect data from Sgneep-Box WifiBeacon and analyze them in real time.
Now you can combine Interactive Video, IoT, Kiosk system and Proximity marketing in a single device managed by Sgneep-Box OS.
Proximity Marketing
Sgneep Wifi-Beacon is able to understand the distance of WiFi devices within a certain area.
The control panel of each Wifi-Beacon allows to obtain a more precise distance by setting the parameters to optimize the FSPL(Free-Space path Loss).
WebApp
Customizable Sgneep-Box App
All actions supported by "Sgneep-Box Script" can be integrated into the customizable WebApp
---
Easy Script, powerful features, and the freedom to build anything you want.
---
Why Sgneep-Script
Sgneep-Box allows you to connect video devices, webcams, check or read the status of the sensors connected to the GPIO port; playing music and videos will not be a problem.
Whether it is the garden sprinkler or the Multimedia Kiosk / IoT develop the software will be very simple and in a very short time.
Try the script demos included in Sgneep-Box OS, you can easily start with these examples and expand them as you prefer or use the code fragments found on this page.
Sgneep-Box is able to stay synchronized with your ftp server, so you can remotely update the entire sgneep-box script, images and audio and video files.
You can also configure your smtp server, like GMAIL, to send images taken by a professional DSLR camera.
With the sgneep-box script you can do it ... and much more...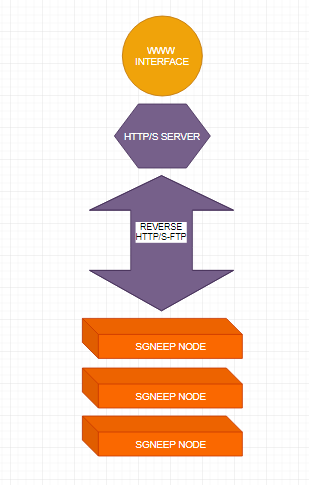 Sgneep-Box Script allows you to write many applications, be it DS or KIOSK, Proximity Marketing or Gamification.
Applications:
Digital Signage / Kiosk System
Interactive Video / Video-Book
JukeBox Machine / Domotics Application
Garden Control / IoT device / MTM Device
BoTNeT / Desktop Automation
Data Collection/ Proximity Marketing
Web Scraper / Info Point
........and much more......